Clique aqui para a apresentação em português!
Read about our first leg here: (From Seattle to Crescent city – The greatness of feeling small and insignificant)
Check out our pictures here! We will be uploading them as we go, wifi permitting!
Welcome to our new adventure!
From the USA to Chile
In a single-engine airplane!
What da…?
Yep, you read it right! We are traveling from Seattle – the (not so) freezing and wet corner of the Pacific Northwest through Florida and from there to Santiago de Chile (with Santiago de Chile) in a single engine airplane! It will take more than 70 hours of flight, with almost 30 stops and cover around 6000 miles (9600km).
The Crew:
Santiago from Santiago de Chile:
Pilot in command of the adventure. This is the picture of him when he was only 22 years old:
Now he has accumulated lots of experience and many hours of flight. He has been in intensive flight training in Seattle for the last 7 months and guess what!? He is still 22 years old(!)… although he has a beard now! He will be the ultimate commander of this experience! His hard work in the planning of this journey together with his friendly and smiley personality will turn out to be the key to it's success.
Check out this video where he shares his amazing routine getting ready for the adventure:
Don Johnson from the United States of America:
He is the dream-come-true-maker, the stranger-connector and airport-spotter of the trip.
He has idealized this adventure and being very young at heart he is really anxious to finish this adventure before he turns 17 70 years old. Several years, months, weeks days is yet to come before he reaches that mark. He is the head of the game and without him many friendships and connections would not  have been possible. Traveling has shown us that the biggest advantage of getting out of our comfort zone is getting to know who at first are perfect strangers and then become our closest friends. Flying is amazing, traveling is amazing, but really – at the end, the best experiences are those of meeting and connecting with people. He is the chief of the tribe and his tribe is bigger than you can imagine!
As his flying skill is concerned, he is a good airport-spotter (very useful finding the tiny little airports in the Caribbean). Check out this fast-paced video, when we were flying from Florida to the Bahamas on our last adventure:
Gusti Junqueira from Brazil:
The co-pilot, photographer and up-dater of the trip.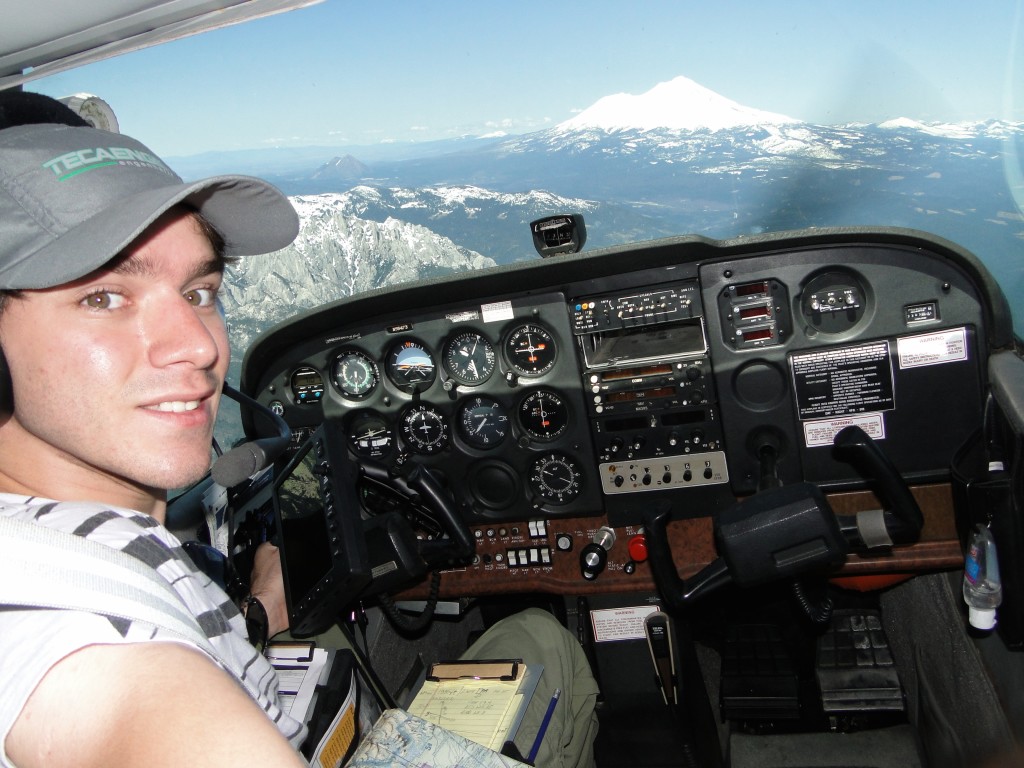 He will be flying the airplane whenever Santiago wants to take his nap.  As a pilot the numbers on his log-book show his expertise: He has exactly the same number of take-offs as landings and he has piloted a similar airplane from Canada to Brazil, although he is often confused as to whether he should control the airplane, his camera settings or wave to people on the ground (with windows wide open). Inevitably the airplane might shake more than it is supposed to so Santiago and Don might not be able to take their nap, but it just adds some fun to the adventure.
Check out this video where he takes pictures, wave to people with windows wide open, flies the airplane solo in the last leg of the Canada-to-Brazil flight:

Rafa Martins from Brazil:

He will not be flying with us but he is our ground-operations and media expert. He will make sure to update and translate our posts to Portuguese and keep our site and social media spaces up-to-date with tips on long-term traveling. He joined our last adventure in Florida, was almost sent to jail in the Bahamas, but was the perfect (automatic) co-pilot from Dominican Republic to north of Brazil.
The airplane:
The airplane is a vintage 1979 Cessna 172 N. It's is in amazing conditions, has little over 800 hours of total flight time. It literally shines like new both inside and out. It has been well kept by his previous owner in a hangar since 1985.
 In the last few months we have done a thorough inspection and installed some cool toys I mean, avionics inside!
The route:
We will follow south the line of the Pacific until California and to avoid the bureaucracies in Central America countries we will have to turn east and cross coast to coast in the south of United States. Reaching Florida we will fly over the Caribbean Islands before getting to South America in Colombia and then flying south through Ecuador and Peru before reaching the final destination in Valdivia, in the south of Chile.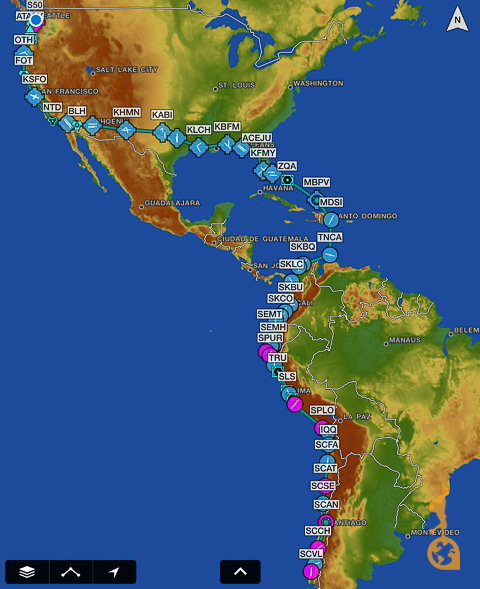 We appreciate if you leave your comments below: